Ingredients
1 cup Badia Organic Quinoa
2 cups Water
2 tsp Badia Chicken Flavored Bouillon Powder or 2 cubes Badia Chicken Flavor Bouillon
1 Medium Orange or 1 small can Mandarin Oranges
2 tbsp Fresh Cilantro Leaves
4 Scallions
1 tbsp Badia Minced Garlic in Olive Oil
2 tbsp Badia Extra Virgin Olive Oil
1/4 tsp Badia Crushed Red Pepper
1 lb. of your protein of preference: Shrimp, Pork Tenderloin, or Chicken
1 cup Badia Marinade (Shrimp: Cilantro Lime Marinade; Chicken: Mojo Marinade; Pork: Naranja Agria)
1/2 tsp Badia Ground Cumin
1 Avocado, diced
Badia Black Pepper
Badia Adobo with Pink Himalayan Salt
Directions
Cut meat of choice into 1-inch cubes and marinate from 30 minutes to 24 hours, refrigerated.
Cook the Quinoa according to package directions using Bouillon as liquid.

 

Meanwhile, finely grate 2 tsp zest from the orange and set aside.
Cut away the peel and white pith and all dividing membranes from the orange and, working over a large bowl, cut into segments. Roughly chop the segments and place into the bowl. Squeeze the juice from the membrane into the bowl, then mix in the cilantro, scallions, garlic, 1 tablespoon oil, red pepper flakes.
Heat the remaining tablespoon oil in a large skillet over medium-high heat. Season the Shrimp/Pork/Chicken with the reserved zest, the Cumin, and ¼ teaspoon Pepper. Cook, tossing occasionally, until cooked thoroughly.
Fold the quinoa, cooked protein, and avocado into the orange mixture.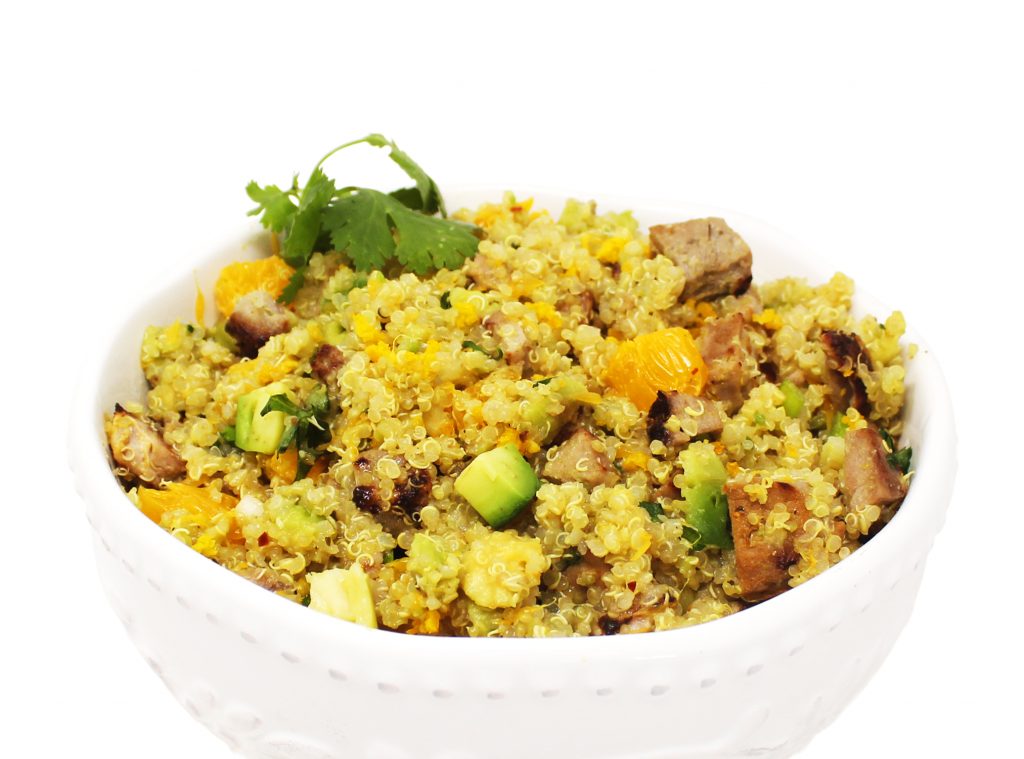 Soul of the Dish