Ingredients
3/4 cup (12 tbsp) Unsalted Butter, room temperature
1 cup packed Light Brown Sugar
1 Egg, at room temperature
1/4 cup Molasses
2 tsp Fresh Ginger, very finely chopped
2 1/2 cup Unbleached All-Purpose Flour
2 tsp Badia Baking Soda
2 tsp Badia Ground Ginger
1 tsp Badia Cinnamon Powder
1/4 tsp Badia Ground Cloves
1/4 tsp Badia Ground Nutmeg
1/4 tsp Badia Kosher Salt
3/4 cup Semi-Sweet Chocolate Chips
1/3 cup Badia Organic Crystallized Ginger, chopped

 

1/2 cup Granulated Sugar
Directions
Makes about 3 dozens
Beat Butter in a large bowl with a mixer set to high speed for 1 minute. Scrape the bowl with a rubber spatula.
Add Brown Sugar and beat on high speed for 5 minutes. Scrape the bowl.
Add the Egg, Molasses and Fresh Ginger and beat on high speed for 1 minute. Scrape the bowl.
In a separate bowl, sift together flour, Badia Baking Soda, Badia Ground Ginger, Badia Ground Cinnamon, Badia Ground Cloves, Badia Ground Nutmeg and Badia Kosher Salt. Add to butter mixture in thirds, beating on low speed only until blended each time. Scrape the bowl with each addition.
Mix in Chocolate Chips and Badia Organic Crystallized Ginger on low speed.
Pour the granulated sugar into a small, shallow bowl. Shape the dough into balls about the size of a walnut. Coat in the granulated sugar. Arrange on two sheet pans lined with parchment paper or a silicone baking mat, spacing them 2-inches apart. Cover and refrigerate until the dough is firm, at least 1 hour.
Position racks in the upper and lower third of the oven. Preheat the oven to 350°F. Bake cookies until their tops crack and their edges are firm, but are still slightly soft in the center, about 15 minutes.
Place the pans on wire racks and let cookies cool to room temperature.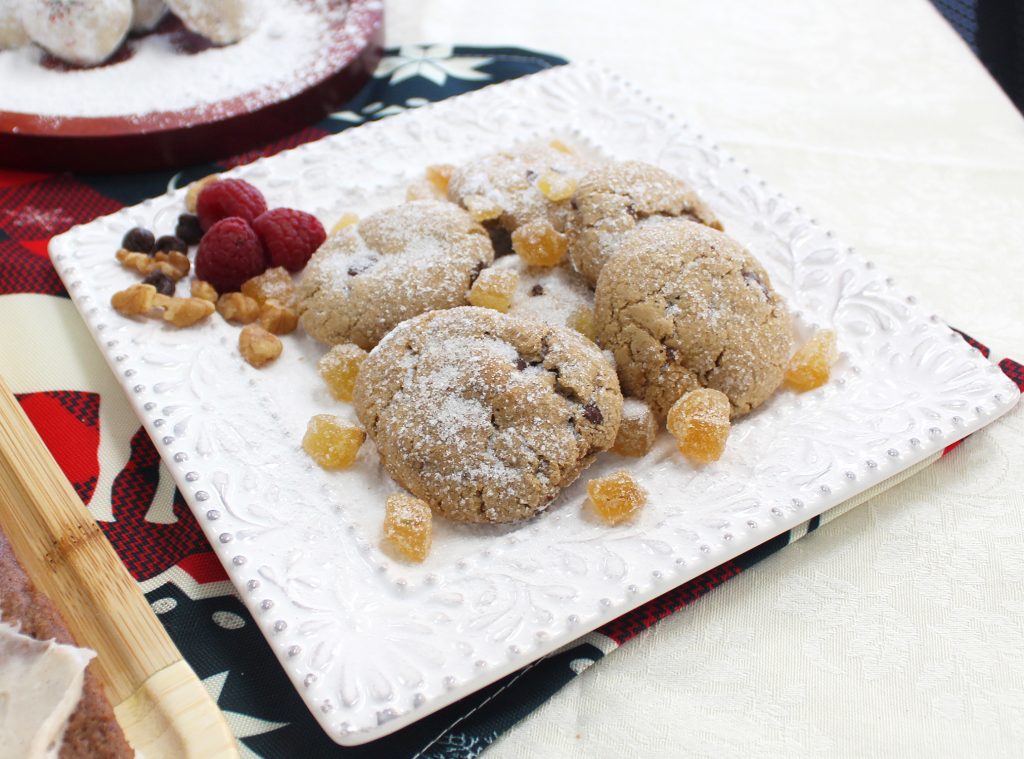 Soul of the Dish